Software download:
Windows System Recovery Toolbox version 1.0.
32 bit and 64 bit Windows support
Released 30/7-2015
The number one software on the net that aims to fix corrupt Windows installation.
This program fixes your windows problems in a 6 easy steps cure.
Avoid reinstalling windows or avoid buying a new computer – this software can fix a lot of problems in your Windows installation. We say if this software does not work for you,  you must likely reinstall Windows or buy a new computer – that how bad damaged your computer is if this software can't fix it.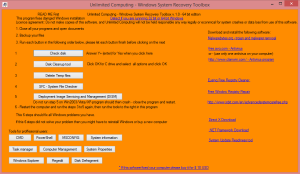 This program will fix all system component of Windows. Stuck systems, hangs/freezes, unstable programs and program crashes all can go away with this software.
This program fixes your windows installation without reinstalling.
It also fixes problems with running tools like SFC and DISM.
Example of error messages you might get with SFC:
Sfc found corrupt files but was unable to fix.
DISM error messages: The restore operation failed. Either the repair source was not found or the component store cannot be repaired.
32 bit / 64 bit system error messages should this program fix too.
All  problems above fixed with this software.
System recovery tools contains 5 steps: chkdsk – Check disk,  Disk cleanup, clean temp folders, SFC (System File Checker) and DISM( Deployment Image Servicing and Management)
This program runs as Administrator and ensures that each tasks is run as administrator on 64 bit platform. It also 9 professional tools: CMD, PowerShell, MSCONFIG, System information, Task manager, Computer Management,  System Properties, Windows Explorer, Regedit, Disk fragmenter.   that also are run as administrator to ensure that you can do changes on your system.
The software also gives links to free software we have tested to work to fix registry issues and removal of malware, trojans, viruses and spyware. Download them and run them. Restart your computer and check if your problem is gone.
This software can be run several times to ensure system stability over time. Perfect to keep an clean and working windows installation over time. This is the number one solution for perfect system recovery used with tools professionals use to fix their windows installation. Its a perfect system clean up tools that removes temporarily files that bug down you computer.
We give a full 30 days money back guarantee that this software will get your windows up and flying again. If not please send a e-mail to post@unlimitedcomputing.no and ask for a full refund + be kind to report your error you have so we can fix it in the next version.
When you click buy and finish the check out with PayPal or credit card you will be given a link that says back to Unlimited Computing – click on it and you will be directed to the download page of the software.
If you already have purchased the software and want the download link again send us an e-mail post@unlimitedcomputing.no and give us your the e-mail address and name you bought the software with and and will send you the download link on e-mail.
This software will work on Windows XP, Windows 2003/2008/2012 Server, Windows Vista, Windows 7, Windows 8 and Windows 10
Buy now:
Windows System Recovery Toolbox – $ 10 USD